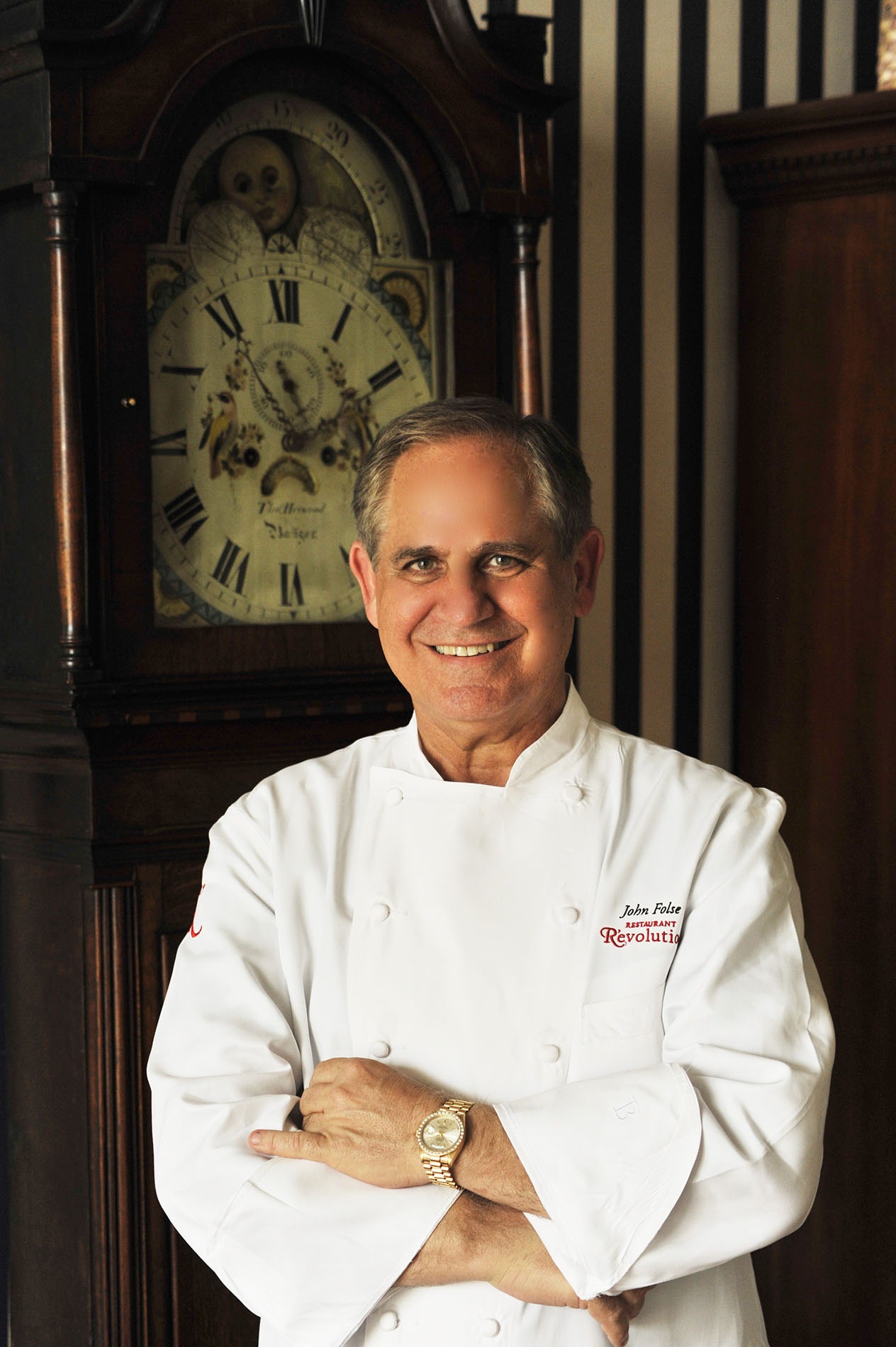 Chef John Folse, born in St. James Parish in 1946, learned early that the secrets of Cajun cooking lay in the unique ingredients of Louisiana's swamp floor pantry. Folse seasoned these raw ingredients with his passion for Louisiana culture and cuisine, and from his cast iron pots emerged Chef John Folse & Company.
When Folse opened Lafitte's Landing Restaurant in 1978 in Donaldsonville, Louisiana, he set out to market his restaurant by taking "a taste of Louisiana" worldwide. He introduced Louisiana's indigenous cuisine to Japan in 1985, Beijing in 1986 and Hong Kong and Paris in 1987. In 1988, Folse made international headlines with the opening of "Lafitte's Landing East" in Moscow during the Presidential Summit between Ronald Reagan and Mikhail Gorbachev. In 1989, Folse was the first non-Italian chef to create the Vatican State Dinner in Rome. Promotional restaurants also included London in 1991 and 1993, Bogota in 1991, Taipei in 1992 and 1994 and Seoul in 1994. In 1988, the Sales and Marketing Executives of Greater Baton Rouge named Folse "Marketer of the Year" and the Louisiana Legislature gave him the title of "Louisiana's Culinary Ambassador to the World."
READ MORE
The Chef John Folse Culinary Institute at Nicholls State University in Thibodaux, Louisiana, opened in October 1994 and is dedicated to the preservation of Louisiana's rich culinary and cultural heritage. In March 2013 ground breaking ceremonies were held at NSU on the site of the new culinary arts building, which is projected to open in September 2014.  In August 1996, Folse began broadcasting his radio cooking talk show, "Stirrin' It Up." In 2001, "Stirrin' It Up" expanded to a television cooking segment during the 5 p.m. newscast on WAFB-TV Channel 9 in Baton Rouge.
Exceptional Endings, the pastry division of Chef John Folse & Company, was launched in 1996 to create specialty desserts, pastries and savories. In October 1998, a fire destroyed the 200-year-old Viala Plantation, which housed Lafitte's Landing Restaurant, and in May 1999 Folse opened his former Donaldsonville home as Lafitte's Landing Restaurant at Bittersweet Plantation, offering fine dining and bed and breakfast accommodations. In the year 2000, Folse incorporated Digi-Tek Productions, a full service digital recording studio.
In 2010, Folse announced his business partnership with Chef Rick Tramonto and the formation of the new restaurant development company Home on the Range: Folse Tramonto Restaurant Development, LLC. The partners will launched their first joint restaurant, Restaurant R'evolution, at the Royal Sonesta Hotel New Orleans in the city's renowned French Quarter in June 2012. Restaurant R'evolution will offers modern, imaginative reinterpretations of classic Cajun and Creole cuisine.  In autumn 2014 Fold and Tramonto will open their second joint venture, Seafood R'evolution, in Ridgeland, MS, a bedroom community of the metro Jackson area.
Folse has received numerous national and international accolades over the course of his 30-plus year career. In 1990, the American Culinary Federation named Folse the "National Chef of the Year," and in 1999, the Research Chefs Association (RCA) named Chef John Folse & Company "Pioneers in Culinology" due to the efforts of Folse's culinary research team. He is the only chef ever to serve as chairman or president of the American Culinary Federation (1994), DiRoNA (2000-2001), and the Research Chefs Association (2005-2007). In 2006, Folse was inducted into the National Restaurant Association Educational Foundation's College of Diplomates. In October 2008, Folse was awarded the Louisiana Governor's Cultural Economic Development Arts Award. He holds honorary Doctorates of Culinary Arts from Johnson & Wales University in Providence, RI, and Baltimore International Culinary College.
Thirty years of culinary excellence later, Folse is still adding ingredients to the corporate gumbo he calls Chef John Folse & Company, which is as diverse as the Louisiana landscape, and he would not want it any other way.
AWARDS AND ACCOLADES
Chef John Folse
Louisiana Restaurant Association, "Louisiana Restaurateur of the Year," 1987
American Culinary Federation (ACF), "National Chef of the Year,"1990
Johnson & Wales University, Honorary Doctorate of Culinary Arts, 1992
American Culinary Federation, National President, 1994
Baltimore International Culinary College, Honorary Doctorate of Culinary Arts, 1995
Nation's Restaurant News, "Profiles of Power," 1995
Food Arts magazine "Silver Spoon Award," 1998
American Culinary Federation (ACF), Louisiana Chef's Hall of Fame, 1999
DiRōNA, Chairman, 2000 – 2001
RCA, Board of Directors, 2001
RCA, President, 2005‐2007
ACF, Antonin Carême Medal, 2000
National Restaurant Association Educational Foundation, College of Diplomates, 2006
Bocuse d'Or World Cuisine Contest, American Judge, 2007
Louisiana Governor's Cultural Economic Development Arts Award, 2008
Southern Foodways Alliance, Lifetime Achievement Award, 2008
Baton Rouge Epicurean Society, Grace "Mama" Marino Lifetime Achievement Award, 2011
Nicholls State University, Honorary Doctorate of Commerce, 2011
Louisiana Seafood Promotion & Marketing Board, Marketing Specialist 2008, Chairman 2013
Sister Dulce Foundation Board, current
BP's Spirit of the Gulf campaign at the London Olympics, Louisiana representative, August 2013
Research Chefs Association Lifetime Achievement Award 2013
St. Joseph's Cathedral Community Award, March 2013
Louisiana Cultural Ambassador, 2019
Recipient Ella Brennan Lifetime Achievement in Hospitality Award, January 2020
Chef John Folse & Company
TGI Friday's, Procurement Product Development Award (Chef John Folse & Company), 1998
Research Chefs Association (RCA), "Pioneers in Culinology" (Chef John Folse & Company), 1999
TGI Friday's, "Food Vendor of the Year," 2011
Lafitte's Landing
Nation's Restaurant News, "Fine Dining Hall of Fame," (Lafitte's Landing), 1989
DiRōNA, Award of Excellence (Lafitte's Landing), 1996
READ LESS